COVID-19 Education
As required by the UK Government and Department for Education, a high-quality remote education system has been embedded into the curriculum and is available should students not be attending lessons within the Academy.
What is Remote Learning?
Remote learning is any kind of learning that takes place outside of the classroom. This can be something as simple as a home learning task that has been set by a teacher and requires a piece of work be accessed or completed online. It can also extend as far as you participating in an online video meeting with a teacher and classmates, if for some reason students are unable to attend in person. To ensure they can continue learning, the academy has given students access to Office 365 and more specifically MS Teams, so they can participate in remote learning as part of lessons inside and outside of the academy.
How do I use Remote Learning?
You will need access to a desktop, laptop, tablet (iPad or equivalent) or smartphone that you can download apps onto. You will also need access to the internet. You can use a web browser such as Google Chrome or Microsoft Edge and visit the link below.
All students have an email to be able to access Outlook (email), OneDrive (for storage of work and resources) and Office 365 (for online use of PowerPoint, Word, and Excel) and Microsoft Teams.
You should have been issued with a username (in the form of an email address) and a password, which you can use to login. If you have not been given this information, please ask a teacher to provide you with it. Your parents can also email ITSupport@sharemat.co.uk to request this. Should you need a reminder or a password change, you can call reception, ask a member of staff in the Academy or email ITSupport@sharemat.co.uk When emailing for a username and password, please include the student name, year group and Academy name (TCA).
To log in to Office 365 and all remote learning apps please follow the link below:
Office 365 and remote apps landing page
When should I use Remote Learning?
Teachers will set your home learning on MS Teams and may ask you to complete work on it during lessons. For help in using Teams for your remote learning, please watch the video below, and consult the Parents and Students guide at the bottom of this page.
Student Introduction to MS Teams
If you are attending lessons as normal, you might use Teams for some lessons to complete and submit lesson work. You may then use it at home to complete home learning, such as taking a picture of a drawing you have completed for Art and submitting it from your smartphone.
If you are absent from the academy due to self-isolation, you are expected to access Teams to complete the material your teachers have uploaded for each of your timetabled lessons. If your bubble is closed and you have to study from home, your teachers will be running lessons from school that you can join in with by joining meetings on Teams. Your teachers will send you emails with timings and you should keep to them. The image below describes how you should be using remote learning.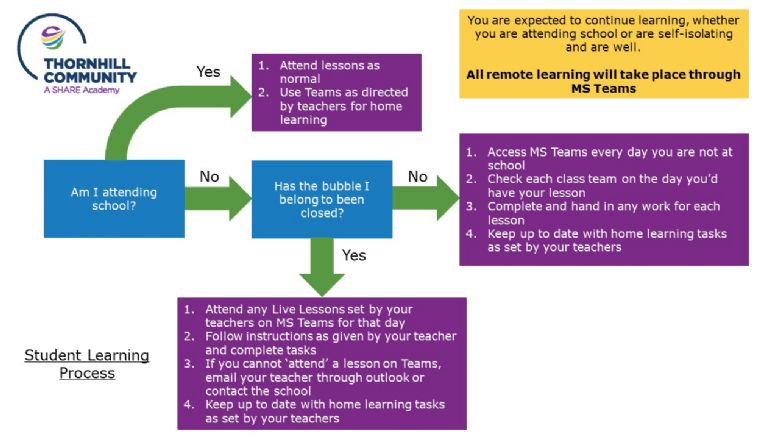 When you are working at home, you will be expected to keep to your timetabled lessons. You should use the table below and the instructions sent to you by your teachers to attend lessons and complete activities to ensure you continue to learn.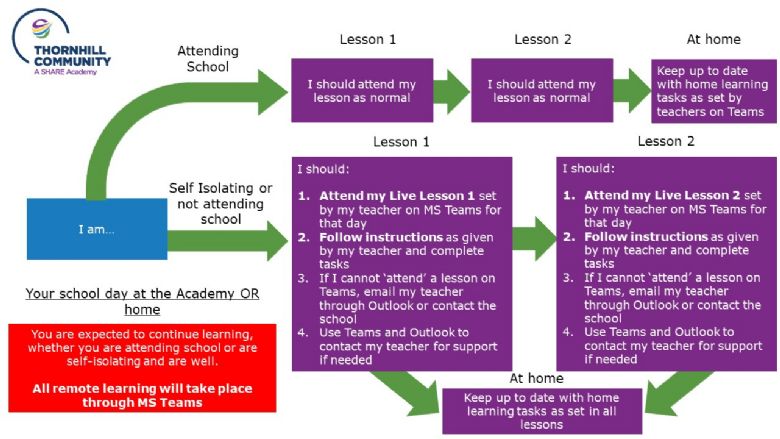 What do I have access to?
Through your own devices at home, you will be able to use the following applications for schoolwork, home learning and remote learning.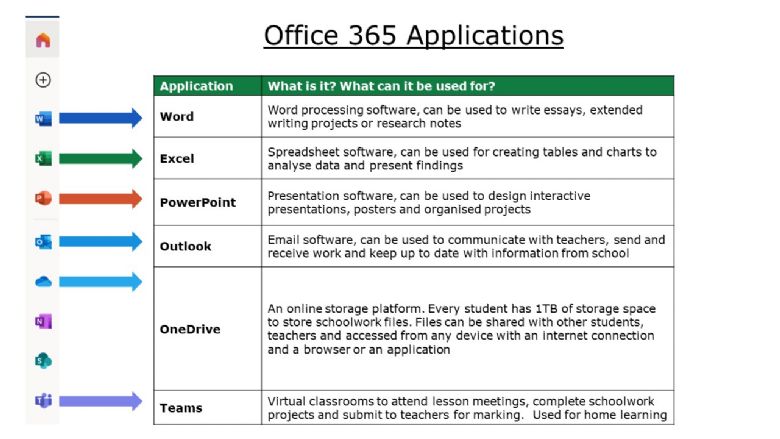 It is essential that, if absent, students are engaging with the school to continue learning. If you cannot access remote learning due to not having access to a suitable device or do not have access to an Internet connection, please visit the troubleshooting page. If you are still unable to engage, please contact the academy reception team or use the link below for further support.
It is possible to access remote learning through an Xbox or PlayStation. For information on how to do this please see our guide which can be found here.