A Christmas Carol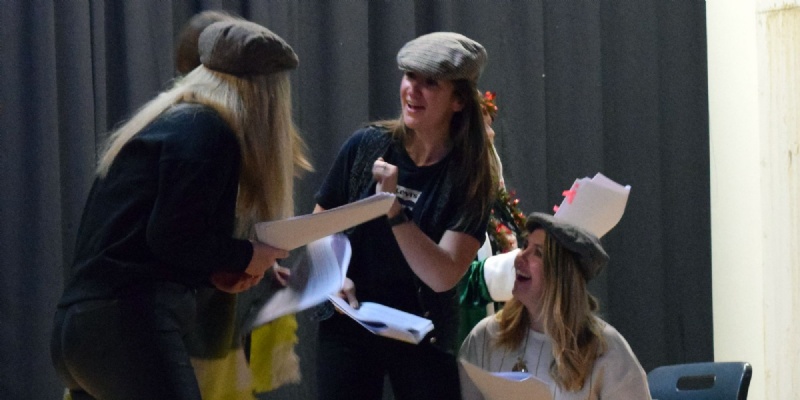 Students in Year 11 were delighted to watch a performance of Charles Dickens' classic tale A Christmas Carol acted out by their some of their teachers.
The play was enacted by members of staff from the English department who told the story of old miser Scrooge and how he is visited by four ghostly visitors who come to teach him a lesson; his old partner Jacob Marley and the ghosts of Christmas Past, Christmas Present and Christmas Future. As Christmas day dawns these apparitions and their dire warnings enable Scrooge to see the error of his ways.
The performance was organised by Dr Price, English teacher at the Academy. She told us: "A Christmas Carol is one of our GCSE English Literature set texts. This year, Mr Burton and I decided to ask the English department if they were willing to put on a performance of the novella for our Year 11 students to watch. Luckily, they rose to the challenge! Our students have worked very hard this term and we wanted to give them both a memorable experience and a way to visualise the text beyond reading aloud and watching film adaptations. We are definitely not actors (though Mrs Sinclair probably should be!) but we are very enthusiastic about the texts we teach, and we hope this came through in the performances."
Students watching the performance greatly applauded their teachers. One of our Year 11 students told us: "I have really enjoyed watching the performance. Our teachers did a fabulous job and must have put in a lot of hard work beforehand to create such a good show. We really appreciate their efforts."
Many thanks to our staff for going the extra mile to help our students develop their learning. Thank you also to those who helped behind the scenes enabling the performance to run smoothly.