Students learn vital life-saving CPR skills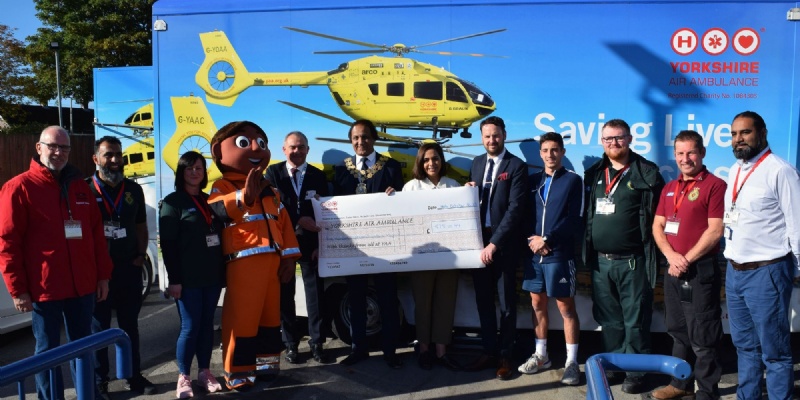 Academy students were given the opportunity to learn the techniques of performing cardiopulmonary resuscitation, more commonly known as CPR, in a special training event led by staff and volunteers from the Yorkshire Ambulance Service and the Yorkshire Air Ambulance.
CPR is an extremely important skill that could save someone's life. With training from call handlers, paramedics, and community first-aiders, Year 10 students at the Academy had the opportunity to learn how to perform CPR should they ever have the need to do so.
Training began with a special assembly which featured a behind-the-scenes view of the operations of the emergency services when responding to a medical emergency.
In the workshop that followed students learned about the procedures for aiding someone in cardiac arrest and the technique for providing chest compressions. They also had the opportunity to ask questions of medical staff attending the event.
During the final part of the training session students were able to experience the flight deck of an air ambulance helicopter as the Yorkshire Air Ambulance very kindly brought their training vehicle on site. This was accompanied by 'Dr Priti' their mascot.
The programme was organised by Science Teacher, Mrs Patel who ran the event to coincide with the national Restart a Heart Day taking place on the same day.
She told us: "The training has a huge impact on students. As a school we know how important it is to have CPR training. We are giving every student a chance to learn the skill before they leave."
As part of the Restart a Heart Day campaign, we were delighted to present the Yorkshire Air Ambulance charity with a cheque for £518 towards the running costs of the air ambulance. This was received by Rod Barnes, Chief Executive of the Yorkshire Ambulance Service.
The Mayor of Kirklees, Cllr Masood Ahmed also attended the event at the Academy to see the CPR training in action.
Cllr Ahmed told us: "It is great to see these invaluable life-saving skills being taught to our students here in Kirklees. You never know when they might be needed, and a cardiac arrest could happen to somebody and when you least expect it."
"I would encourage schools to sign up to the Restart A Heart campaign as the skills can make a difference and save somebody's life."
The event was brilliantly delivered by all involved and we are extremely grateful for their support. We would also like to congratulate all of our Year 10 students for engaging positively in learning skills that one day could save someone's life.