Students experience study at University through the Scholars Programme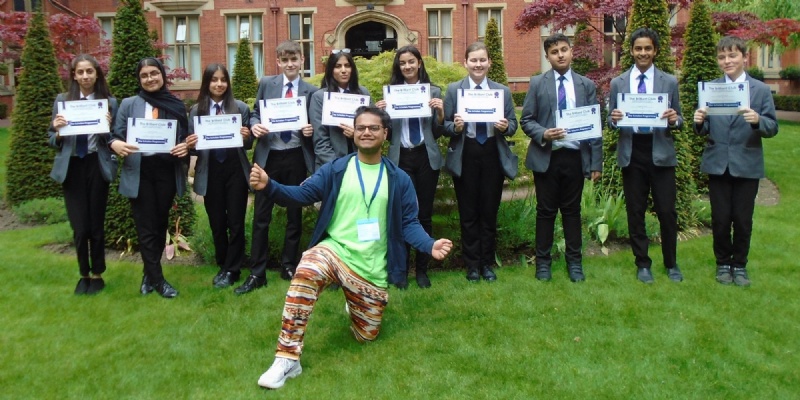 Our congratulations go to twelve of our Year 9 students who have successfully taken part in The Scholars Programme.
Students attended six tutorial sessions with Idris Aminu from the University of Leeds where Idris is a post graduate student studying for a PhD in Sustainable Systems and Processes in chemical engineering. In his research Idris is looking at how to sustainably use plastic to produce hydrogen as an alternative to fossil fuels. Through his guidance and support the students were required to write a 2000-word university-style essay for their final assignment, based on what they learned in their tutorial sessions.
Following the submission of their assignments the students received feedback from Idris on their work and were given grades relating to the standard of their work. Aisha Ali, Chloe Waters and Saira Valli all received a 1st, an outstanding achievement.
The programme was organised by Miss Crowther, Science Teacher at the Academy, who told us: "The Scholars Programme was a huge undertaking for our students and they have worked incredibly hard on this project. I am delighted that all the students who took part have passed, with some of them gaining exceptional marks."
The end of the programme was celebrated with a special graduation event that was held at the University of Sheffield. Chloe Waters delivered a key-note speech during the ceremony, she was the only student from any school to stand up and speak about her project. During the event students were awarded certificates for their participation in the Scholars Programme. They were then taken on a tour of the university which was led by student ambassador, Rohum Hossain, an international student from Bangladesh.
Through the combination of university trips, in-school tutorials and online resources, the Scholars Programme supports students to develop the knowledge, skills and ambition needed to progress to highly-selective universities. This is one of several initiatives organised by the Academy to enable our students reach their potential and we look forward to taking part again in the next academic year.