Academy Students Recognised as Peer Mentors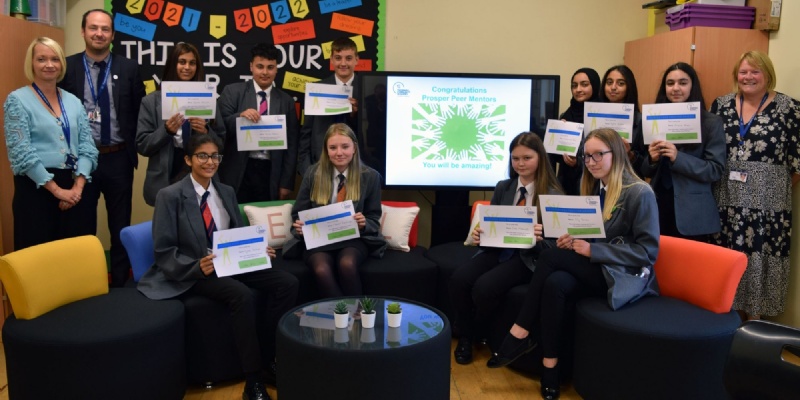 Following the successful completion of the Academy's Prosper Peer Mentor training programme a group of year 10 students were recognised for their achievement when they were awarded with badges and certificates that were presented by Headteacher, Mr Burton.
Eleven students undertook the Peer Mentor training course which was organised in the Academy's brand-new Flagship Wellbeing Provision – Prosper.
The Prosper Peer Mentoring programme is based on young people supporting each other; matching peer mentors with mentees in one-on-one friendships so that they can provide guidance and support, serving as positive role models. Our programme enables Peer Mentors to listen and support fellow students (mentees); helping them deal with the current challenges they may be struggling with.

Miss Keen and Mrs Stevens who run Prosper and the Peer Mentoring Programme said "We are extremely proud of our new Peer Mentors. Each and every one of them have the qualities and skills that will make them excellent mentors and we have no doubt that they are making a positive impact on the lives of their mentees."
Well done to all of the students for taking part in the programme and for your contribution of providing support to your fellow students. We are sure that your help and support will be beneficial and greatly appreciated.
Prosper is a new service at the Academy and is part of our Student Support Hub. Further information can be found here.