Urban Planning: Academy Students Learn About Property Development and the Built Environment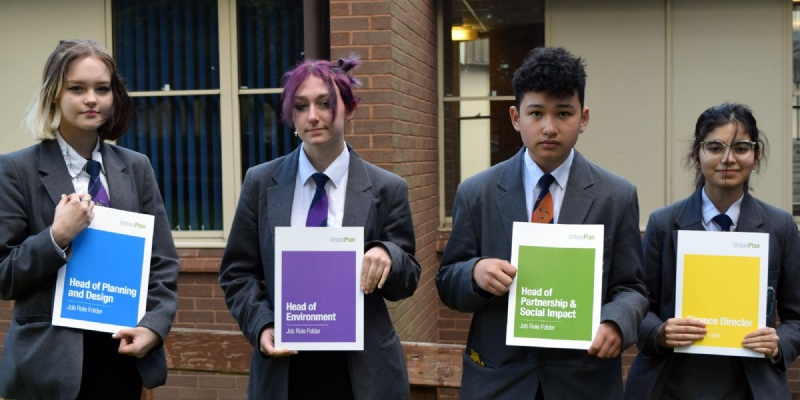 A group of Year 10 students had the opportunity to take part in a three-day virtual workshop with Urban Plan who provide insight into the world of property development and the built environment.
The students were challenged to design a plan that would have the potential to regenerate a fictional town, Ellham and pitch their plan to the council. The 'council' had a list of requirements that the teams had to take into consideration, for example affordable housing, green spaces and a youth centre.
Students worked with professional facilitators and industry experts to win the contract and become successful business moguls. Working in teams, students took on the roles of various professionals including Finance Director, Head of Sales and Marketing, Head of Social Impact, Head of Planning and Design and Head of Environment. As a team member each student was inspired to develop their skills in relation to time keeping, resilience, teamwork and decision making.
The workshops took place over three days and were led by Academy Careers Leader, Mrs Sinclair, who ran the in-house sessions of the programme. Industry specialists from Urban Plan conducted their sessions virtually using video-conferencing and online presentations to interact with the students and provided them with live instructions to use the town planning software.
"It has been extremely positive and useful for our students" explained Mrs Sinclair. "Our aim is to expose our students to as many different and diverse careers we can while they are with us, and this was a fantastic opportunity to work with industry experts and learn lots of new skills'.
The final workshop consisted of students reflecting on how well their teams had worked together and identifying how they could improve in the future.
One student who took part commented that she had to "use initiative and management skills and to co-operate as a team to ensure we were able to create a sustainable and modern Ellham."
These are vital skills that our students will need in the future, and they lay at the heart of what we teach and develop through our Careers curriculum at the Academy.
Congratulations to Khadijah Akuji, Markus McKinnon, Millie Walkington and Amber Thurlow otherwise know as Quantum Establishment, who created the winning plan and pitch. A huge achievement, well done team!