Year 11 Leavers' Gala Ball: A Night of Glamour and Celebration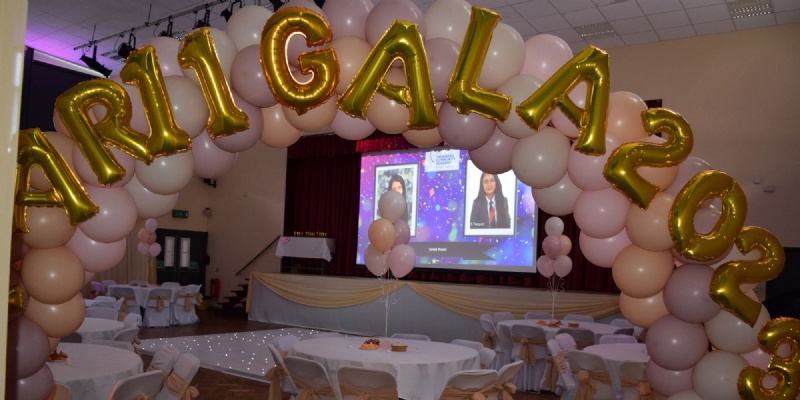 Year 11 students celebrated the culmination of their school days at Thornhill Community Academy with a fabulous Gala Ball. The special event was a great success, with students embracing the opportunity to dress up and make lasting memories of their time at high school. The atmosphere was filled with excitement and a sense of accomplishment as students and staff gathered together to celebrate this special milestone.
The event, which was held at the Academy, was organised by Deputy Head Teacher, Mrs Ali who was supported by a dedicated team of Academy staff members. The services of external business were brought in to dress the hall and provide catering, ice creams, a photo booth and an illuminated LED dance floor. This transformed the venue into a magical and elegant setting.
On arrival there were photo opportunities both outside and in front of the special rose wall background. An amazing selection of mocktails were also available along with sweets and nibbles throughout the event.
The photo booth, another exciting addition to the evening, proved to be extremely popular. This enabled students to capture instant selfie pictures and create cherished memories. The booth, adorned with props and backgrounds, provided a fun-filled space for students to express their joy and excitement, ensuring that the event was documented in a unique and personalised way.
Following the buffet supper informal awards were made by Mr Burton and Mrs Ali to students based on votes cast by their peers and members of staff. Thomas Kershaw and Millie Swales were then crowned as Gala King and Queen, after which everyone took to the dance floor.
The Gala Ball holds great significance for students of the Academy, as it symbolises the end of their five-year educational journey in high school. It also serves as the last gathering of the entire year group before they disperse to different sixth forms, colleges, and workplaces in September.
As the students embark on their new paths, we extend our best wishes to all leavers of 2023, hoping for their success and happiness in the future.
All the photos from the Gala Ball can be viewed in our photo gallery. Click the button below to access the images.